LCEPs are innovative partnerships between cultural providers, educational institutions and local authorities that aim to join-up and improve cultural education provision for children and young people in their town, city, county or region.

Enjoy - Great Yarmouth is one of a growing networks of Local Cultural Education Partnership's set up to meet the Arts Council England Cultural Education Challenge.
Cultural organisations are working with schools and other education providers to ensure that all children and young people can experience a diverse range of cultural activities regardless of their backgrounds.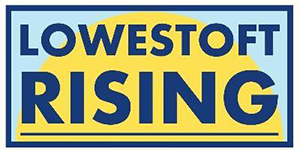 Lowestoft Rising is a public sector partnership committed to improving the town, working with partners Suffolk Police, Suffolk Police and Crime Commissioner's office, East Suffolk Council, Suffolk County Council and NHS Great Yarmouth and Waveney Clinical Commissioning Group to improve the way the public and voluntary sectors operate for Lowestoft.
The partnership aims to create a significantly improved quality of life for everybody growing up, living in, working in, visiting and investing in Lowestoft. Aspiration and Pride are key and our focus therefore remains on raising the aspirations of everyone, and especially young people.
Projects
| | | |
| --- | --- | --- |
| Culture Schools Programme | CPD Training Programme | Schools Network |
| | | |
Legacy
The Making Waves Together project has enabled a new working relationship between the Enjoy Great Yarmouth and Lowestoft Rising Local Cultural Education Partnerships.
Working together on the project has enhanced the reach and impact of both organisations and fostered new creative collaborations between educators and cultural practitioners across the county boundary. By sharing knowledge and resources we have been able to significantly increase the number of cultural learning opportunities available to children and young people and supported the development of the cultural ecologies of both towns. We will continue to work in this way to address the challenges and opportunities faced by our vibrant coastal communities.
For us, the best aspect of the Making Waves Together project has been the new and lasting relationships that have been developed between cultural and educational organisations working in the two towns.